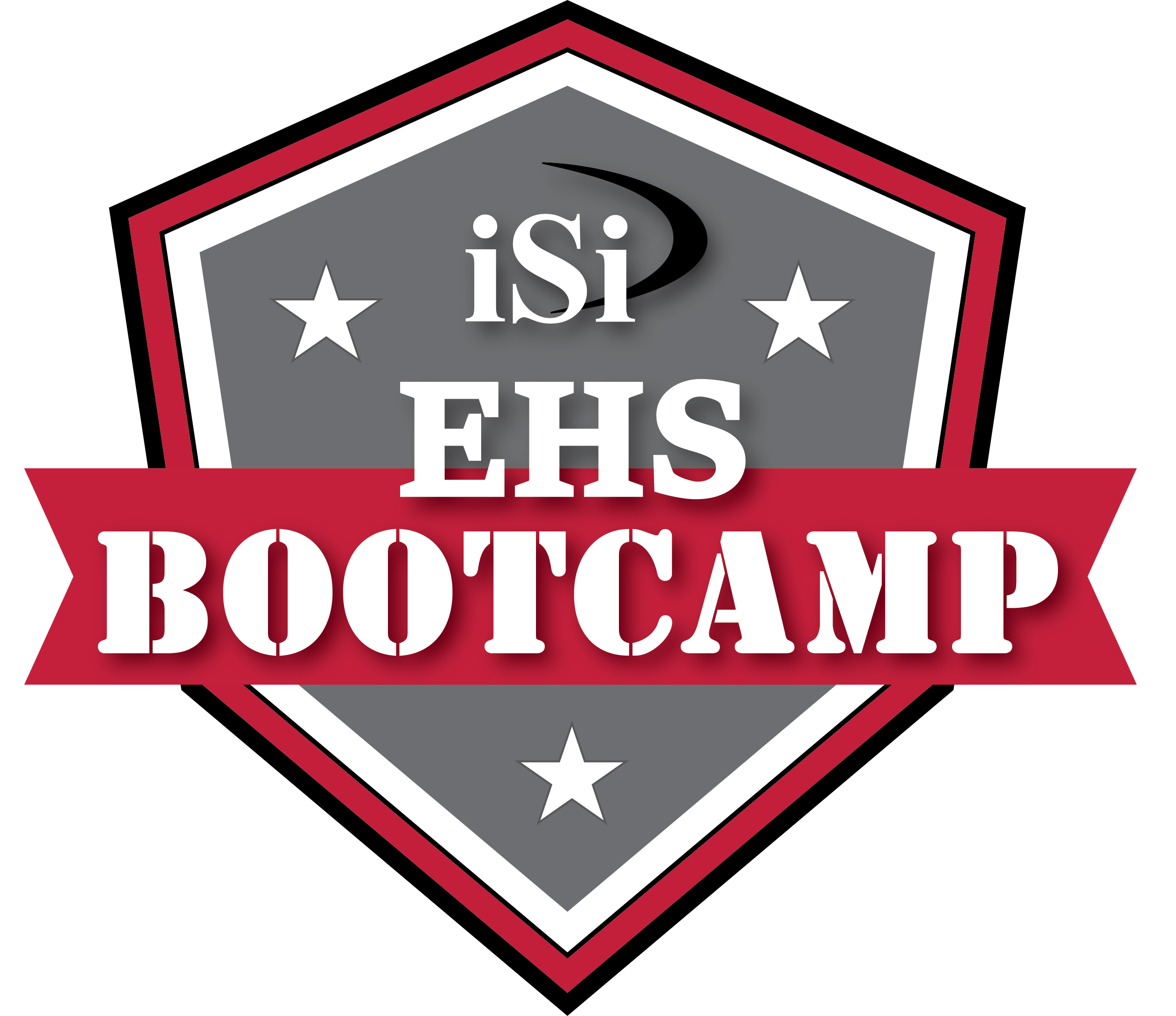 Visit our EHS Bootcamp website to learn more about the agenda and to register!
Starting out, every day as an EHS professional felt overwhelming.  I started at this company doing one thing, but I inherited EHS duties somewhere along the way.  I didn't have any formal training and I was wearing so many hats that I didn't have a lot of time to search out training opportunities anyway.  Over the years I was able to sift through the complex language of the regs, enough to identify what we needed to do to stay compliant.  However, I always wished there was a course available to help weave through the madness. 
Does this sound familiar?  We have worked with hundreds of EHS (environmental, health and safety) professionals over the years, and this is a story we hear all of the time.  Very few people go to college to become an EHS professional, but somehow they end up being one.  Safety regulations have a lot of standards to wade through and sometimes they tell you what you are required to do, or what they think you should do.  Environmental regulations can be a whole other animal, with lots of arms and legs and elbows and teeth.  In many cases available training is either pinpointed on a specific topic or is very generalized.  
That's why iSi has developed our EHS Bootcamp.
What's an EHS Bootcamp?
Our bootcamps deliver overview and compliance information about specific regulatory topic areas in 45 min-1 hour increments.  Within these sessions we explain what the reg is about, why it's important, what the documentation requirements are and any other items you need to know about it.
We feel our EHS Bootcamps will be good for those who are new to the industry, those who have been in it a while and need a refresher, and those who deal with EHS regulations only on a limited basis.  
September 24 EHS Bootcamp
Our first ever EHS Bootcamp will be online on September 24.  We will have 2 tracks…an environmental track and a safety track with new topics every hour.    You can choose the sessions you want to attend as they happen.  So if you take care of both environmental and safety duties, you can choose from a mix of both sessions. 
As an introduction, we're offering this event for of only $100 per ticket!  So if you have a conference that you were going to attend this fall that has been cancelled, think about attending this one!
Site-Specific EHS Bootcamps
We have many more presentations built and envision providing custom bootcamps to be held for individual companies. If this is something you'd like to see at your company, email us for more information.
We hope that our EHS Bootcamp will help you hone your professional skills and point out compliance issues you weren't aware of.
Agenda
Check out the agenda below for our September 24 event!
EHS BOOTCAMP AGENDA — SEPTEMBER 24, 2020
All times listed in Central Time
Environmental Track

: Hazardous Waste
Safety Track

: Regulatory Inspection Process
Environmental Track

: Clean Air Act/Air Permitting
Safety Track

: Chemical Inventory for Hazcom
Environmental Track

: Stormwater
Safety Track

: Injury Reporting and Worker's Compensation
General Session

: 


ISO Certification: More About ISO 14001 and the New ISO 45001
Environmental Track

: Spills: SPCC and Contingency Plans
Safety Track

: PSM and RMP
Environmental Track

: Wastewater
Safety Track

: Electrical Safety
Environmental Track

: EPCRA and Emergency Planning
Safety Track

: Developing an Industrial Hygiene Plan
Environmental Track

: DHS Chemicals of Interest
Safety Track

: OSHA Emergency Action Plans


Marc Mason

Strategic Channel Manager

Marc is the leader of our sales and marketing team, and as a member of iSi's family ownership group, he has been around iSi pretty much all of his life.  Besides business development efforts, Marc works with iSi's departments and our clients to help find and implement new technologies for better efficiencies and client benefit.
We send our articles by email whenever we add a new one.  Don't miss out!  Sign up for our blog today.