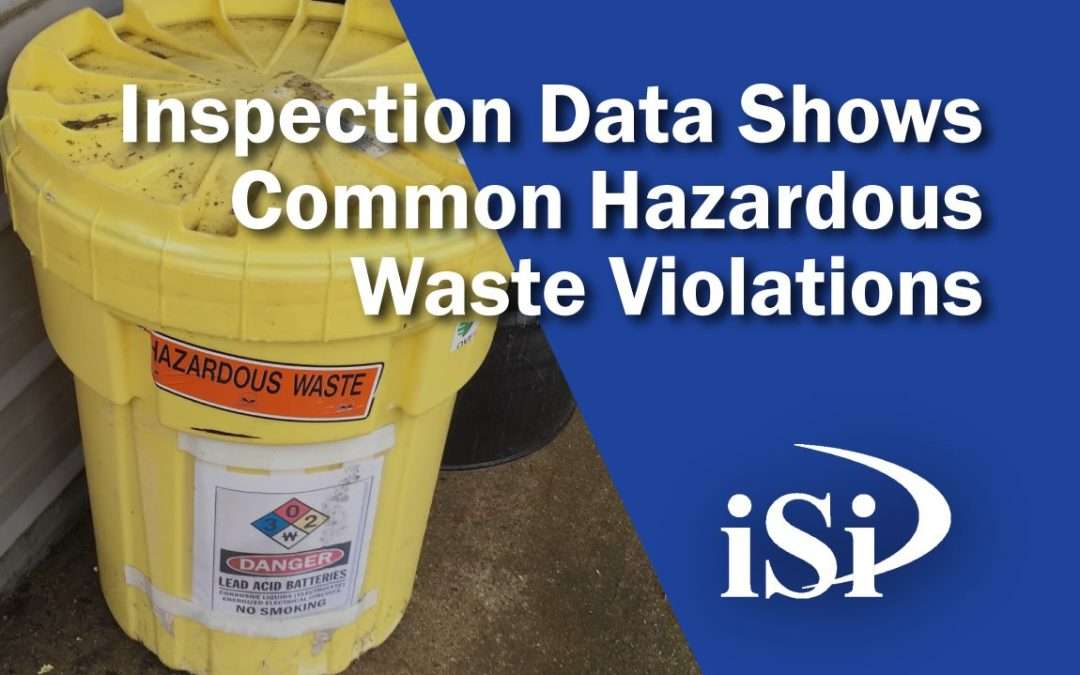 We decided to take a look at some of the EPA enforcement sites to review hazardous waste violations issued across the U.S. within the past couple of years.  We wanted to see if there were some common themes that readers should be on the lookout for because sometimes the best lessons can be learned from the experience of others.  We chose, at random, sites from all across the U.S. and looked at the federal citations (not state citations) noted.  
Here are some of the most common items we found.  How well is your company managing these items?
Container and Labeling Issues 
The top 2 areas that kept coming up, maybe because they could be considered low hanging fruit, were related to container management and labeling.  
Container issues included:
Keeping containers closed

Keeping containers in the waste storage area past the required time limit per generator status

Keeping incompatible wastes separated during accumulation

Not enough aisle space between drums

Container condition issues such as cuts and dents

Not having proper spill and leak prevention and cleanup supplies

Not immediately cleaning up spills and leaks
Labeling issues were basically incorrect labels to not having any labels at all.  Improper labeling examples included not marking drums as "Hazardous Waste" or not marking used oil storage containers as "Used Oil."  This was not limited to just hazardous waste, but also included not marking universal wastes what they were, such as spent bulbs.  There were also several instances of containers not having the accumulation start dates marked on them.
Inspections
One of the next most popular items cited was hazardous waste inspections.  Companies either didn't do them at all, did not document them, or did not do them adequately.  
Make sure this is something you are doing and documenting.  Make sure your inspectors are just not going through the motions and checking the same boxes.  Are the items considered out of compliance showing up on the checklist each week?  If so, why aren't they being addressed?  If you find items out of compliance, were they noted on the last inspection and why or why not?
Training
Many companies were cited for not providing training or not providing it annually, where applicable.  Different levels of generators have different training requirements depending on federal regulations and specific state regulations, however, it was one of the areas most cited. 
In one instance, a company was fined for not having job titles and job descriptions for each position in the facility related to hazardous waste management.  This is a requirement for large quantity generators on a federal level (and may be an additional state requirement depending on which state you're in). We have seen job titles and descriptions asked for in DOT hazmat inspections as well.  This is to help inspectors determine who at the facility needs to have training. Then once they know who needs training they will ask for employee start dates to determine timeframes so they can calculate when initial and refresher trainings should have been conducted.
Waste Determinations
Several companies were fined for not conducting waste determinations.  This is one of the first things you need to be doing so that you know the hazards of the waste you're storing and how you will need to properly manage it.
Contingency Plans
A number of companies had contingency plan issues.  Some of these included:
Not having a contingency plan when required to

Not describing what the company's response would be to fires and explosions in the plan

Not including an evacuation plan

Not listing emergency equipment capabilities in the plan
Tanks and Air Emissions 
Many tank-related issues were cited, but not only about the tanks themselves, but the air emissions issues related to tanks.  In a previous blog, we wrote about how there are air emissions regulations written into the hazardous waste regulations.  Subparts BB and CC of the RCRA air regulations pertain to tanks.   EPA's 2021 compliance initiatives included a statement that said a number of facilities were not complying with RCRA air requirements and as a result, inspectors were being directed to look at these items in inspections. Some of the air-related violations included:
Failing to comply with emissions control standards for tanks

Failing to comply with regulations regarding leaks such as marking equipment subject to Subpart BB air emissions standards

Not developing a monitoring plan for valves that are difficult or unsafe to monitor

No calibration testing

Not passing the required leak test requirements and not having records showing passing scores every 30 days for the past 12 months

Not doing required monthly monitoring
Some examples of the tanks-only (not related to air) violations included:
Storing hazardous waste in a tank for more than 90 days

Not doing daily inspections

Not having hazardous waste tank inspection records

Not doing periodic testing and monitoring of spill prevention equipment or containment sumps

Not having a qualified engineer assess the integrity of an existing tank used to store hazardous waste

Not conducting annual line tightness testing for underground storage tanks
Other Items
There were a number of other items cited that appeared less often, but are still worth mentioning.  They include:
Storing hazardous waste without a permit or without notifying the local authority that they had hazardous waste onsite

Not following the conditions of their hazardous waste permit

Not complying with manifest requirements and not completing them correctly

Not following hazardous waste transportation regulations or following regulations for proper disposal

Not meeting land disposal requirements

Not submitting biennial reports
Conclusion
With the majority of the cases, more than one item was cited.  Some of the fines for single violations fell within the $5,000 area while most with multiple citations were $50,000-$100,000.  Some companies were allowed to pay about half in fines and then spend the other half to do supplemental purchases of emergency response equipment for their local fire departments.  That was used in a few instances, especially in the central states.
Does your facility have any of these issues?  Do you need help with a contingency plan? Do you need to get caught up on your worker training?  Do you need someone to come evaluate your entire program to see where your gaps are?  iSi can help with all things hazardous waste.  Contact us today with any questions or for some pricing for us to lend you a hand.
iSi can help with all things hazardous waste.  Contact us today with any questions or for some pricing for us to lend you a hand.
We send our articles by email whenever we add a new one.  Don't miss out!  Sign up for our blog today.