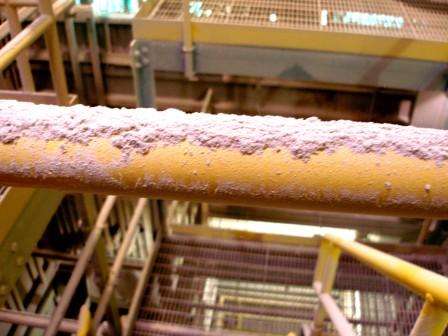 In 2007, after a number of combustible dust incidents, OSHA issued its National Emphasis Program on Combustible Dusts.  After years of inspections and gained knowledge about combustible dusts in industry, OSHA maintains this National Emphasis Program is now updating it to better target those industries they are finding are having the most issues.
What Are Combustible Dusts?
Combustible dusts are organic or metal dusts ground into very small particles, fibers,  flakes, chips, or chunks which makes them more likely to cause fire, flash fire, deflagration and explosion hazards.  They can be found in process equipment, dust collectors, electrical equipment, and all around the building.
Some typical combustible dusts include:
Metal dusts like aluminum, magnesium and iron
Wood dusts
Coal, carbon and carbon black
Plastic dusts, phenolic resins and additives
Rubber dust
Biosolids
Organic dusts like sugar, flour, paper, soap and dried blood
Textile dusts
Grain handling dusts are also combustible, however, due to the incidents and explosions involving grain handling facilities, they have their own emphasis program.  The combustible dust emphasis program looks at all other dusts or those facilities that may not qualify to be inspected under the grain handling emphasis.
Affected Industries
The combustible dust emphasis program has listed quite a few NAICS codes targeted for programmed inspections in its Appendix B.  Some of these include:
Wood products
Forest and furniture
Chemicals
Metal processing
Agriculture and food (human and animal)
Rubber and Tire
Paper products
Textiles
3-D printing
Pharmaceuticals
Wastewater treatment
Recycling
Coal dust handling and processing
Through its inspections since 2007, OSHA found:
The Top 5 Industries with the Most Combustible Dust Hazards
Farm suppliers
Institutional furniture manufacturers
Metal window and door manufacturers
Sheet metal work
Furniture and upholstery repair
The Industries With the Most Fatalities and Catastrophes:
Animal food manufacturing
Sawmills and lumber production
Wood manufacturing and processing
Agriculture processing
New Industries Added to Appendix B to Be Inspected
Through inspection data it was found that certain industries needed to be added to Appendix B because they were more likely to have combustible dust hazards or the number of combustible dust-related fatalities or catastrophes had went up.  These include:
Commercial bakeries
Printing ink manufacturing
Cut stock, resawing lumber, and planing
Leather and hide tanning and finishing
Truss manufacturing
Grain and field bean merchant wholesalers
Industries Removed from Appendix B
Those industries that OSHA found were less likely to have combustible dust hazards or who had low incidents and violations were removed from Appendix B and are no longer on the target list for programmed inspections.  These include:
Fossil fuel electric power generation
Cookie and cracker manufacturing
Pharmaceutical preparation manufacturing
Unlaminated plastic profile shape manufacturing
Noncurrent carrying wire device manufacturing
Blind and shade manufacturing
How Will OSHA Determine Who Gets Inspected?
OSHA will pull a list of all companies whose NAICS codes fall under those listed in Appendix B to generate a random number list.  Each company will be assigned a number and OSHA inspectors who have had specialized training in combustible dust hazards will be assigned to conduct inspections. This list will remain active for 3 years before a new one is generated. Between 2013 and 2017, OSHA conducted approximately 500-600 per year between programmed (planned) and unplanned inspections.
Your company can be deleted off the list if you have been inspected within the past 5 fiscal years, were inspected for combustible dust hazards and no citations were issued, or if you were inspected for combustible dust hazards and were cited but a follow-up inspection verified you did abate the hazards. If you are a VPP or SHARP company, you also will be deleted off the list.
Even if you're not on the list for programmed inspections or in Appendix B, you can still be inspected if there has been a complaint or if you have had a fatality or catastrophic incident related to combustible dust.
There is no OSHA combustible dust standard, so what will an inspector be looking for when they come onsite for one of these inspections?  Stay tuned for our next blog article, "What Will Inspectors be Looking for in Combustible Dust Inspections?"
Need an extra hand to get your safety issues covered? How about policies/programs developed or training conducted?
We send our articles by email whenever we add a new one.  Don't miss out!  Sign up for our blog today.