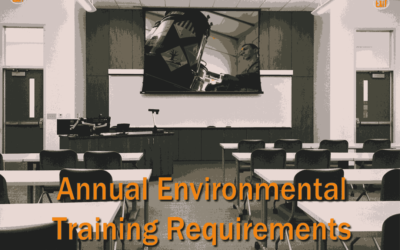 Recently we covered the required annual safety training requirements.  What about the most common annual environmental training requirements?
RCRA Hazardous Waste
Training is required for anyone handling or managing hazardous waste. For large quantity generators this training is required annually by federal regulations. For conditionally exempt small quantity generators and small quantity generators, annual training is not specified in the federal regulations but is considered a best practice. Many states have their own hazardous waste regulations which can vary from the federal version and be stricter, so be aware of the regulations for your area. For example, in Kansas, small quantity generators are specifically required to have annual training.
Stormwater Pollution Prevention Plan (SWP3)
Training is required annually for any facility required to have a Stormwater Pollution Prevention Plan, and in some locations, additional training may also be required. iSi has recently completed a stormwater training project for a national client where we researched all stormwater compliance requirements for each of the 50 states. Through this, we've learned stormwater rules can vary greatly from state to state, and in some cases, from municipality to municipality. Check with your state's general stormwater permit or contact iSi for more information about your state's requirements.
Spill Prevention, Control and Countermeasures (SPCC)
Any company required to have an SPCC Plan must conduct training annually. SPCC Plans ensure facilities have containment and other countermeasures in place to prevent oil spills from reaching navigable waters. Annual training is required for oil-handling personnel to ensure the prevention measures and procedures are in place, understood and followed.
Facility Response Plan (FRP)
FRPs are concerned with oil spill responses after the spills occur. For those who are required to have FRPs in accordance with 40 CFR Part 112, there is training required as well as hands-on exercises. The National Preparedness for Response Exercise Program (PREP) is to be used for the hands-on portion and the U.S. Coast Guard's Training Elements for Oil Spill Response can be used for the classroom training. Qualified individual and emergency procedures exercises must be conducted quarterly, equipment deployment exercises must be conducted semiannually, and incident management team tabletop exercises must be conducted annually. There are additional requirements for unannounced and after business hour training.
Asbestos
Those certified as asbestos workers, contractor/supervisors, inspectors, planners and project designers are required to complete annual refresher training. Maintenance personnel who may disturb asbestos within the course of their duties are required to have annual awareness training. Although EPA addresses awareness training for these workers, it's OSHA which requires the training annually.
Others Worth Mentioning
TSDF Facilities: TSDF facility personnel must have RCRA emergency response training, and that training can be HAZWOPER if it meets the RCRA requirements. HAZWOPER refresher training is due annually.
There are other annual environmental training requirements for industrial processes which are not as widespread including municipal solid waste combustors, medical waste incinerators, and underground hazardous waste injection wells. Much of this training is also conducted by EPA or state-approved training providers.
Others Required, but Not Annually:
Risk Management Plans: Every 3 years
Pesticides: Every 5 years
Lead-Based Paint: Every 3-5 years depending on the initial test you took
DOT (for hazardous waste manifest signing): Every 3 years
IATA (for air shipments of hazardous materials): Every 2 years
IMDG (for vessel shipments of hazardous materials): Every 3 years
iSi can help you complete your required environmental training and also help with write any plans you may be missing. Contact us today!