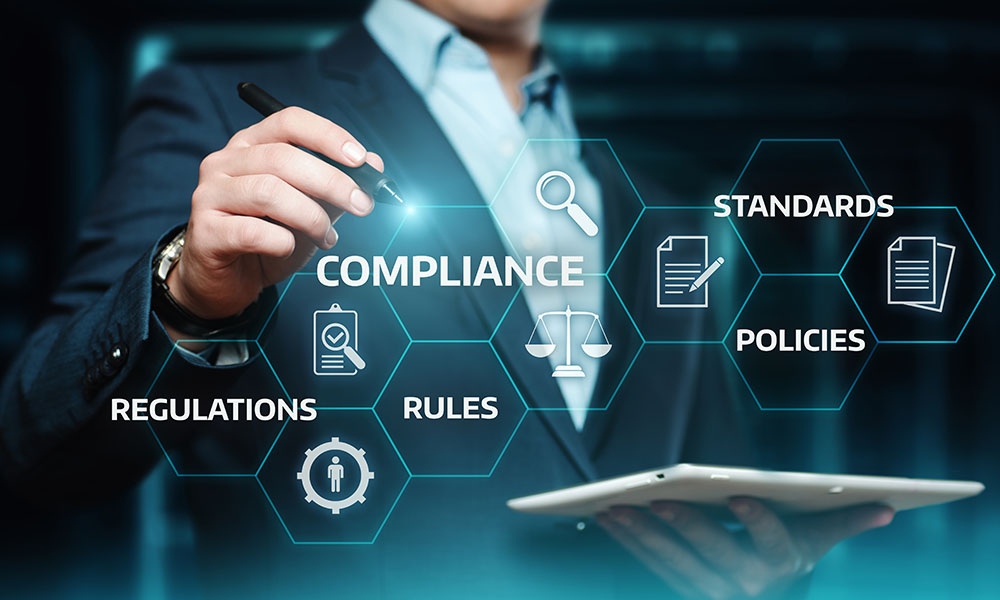 Learning Management Systems: Compliance Training
What is LMS compliance?
An LMS compliance learning management system is a software application that helps companies manage and monitor employee compliance training programs.
These systems help ensure that employees receive the correct training, complete it in a timely manner, and are able to demonstrate their understanding of the material.
LMS compliance systems must meet certain requirements in order to be effective. They must be able to automatically deliver training content to employees based on job role or other factors. They must also be able to track employee progress and provide reports on completion rates.
Finally, they should integrate with other HR systems to streamline the process and make it easier for managers to see which employees need more training. Your company or organization should absorb lms by ahearing to all rules and regulations.
LMS are not only for compliance training or corporate compliance, they can be for training programs, sexual harassment, blended learning, intervention strategies, anti harassment training, general data protection regulation, safety training, fire safety, and much more! Educational institutions and accrediting organizations use them as well.

What is an LMS in corporate training?
A corporate LMS is an essential tool for delivering online employee training and learning content to employees. This learning management system was developed by the leaders in the eLearning industry who also developed compliance training online.
This program helps onboard new employees, then get them the knowledge and skills required to perform their roles, and advance faster in their careers, while prioritizing their physical safety by lowering risk for all employees.
A complete training program will provide a central repository for all your organization's mandatory training and learning content. It should be easy to use and allow employees to access the content they need, when they need it.
With compliance training solutions, you will find engaging learning experiences, award-winning lms while keeping employees engaged and your company's reputation at an all-time high.
When choosing corporate compliance training LMS, there are a few key features to look for:
– Ease of use: The system should be easy to use for both administrators and learners.
– Flexibility: The LMS should be able to accommodate different types of content, including videos, articles, and quizzes.
– Reporting: The system should provide detailed reports on employee progress and activity.
– Mobile compatibility: The LMS should be accessible on mobile devices so employees can learn on the go.
It is important to keep the employee training mandated, make training engaging, and offer diverse training for all businesses and organizations. Implementing effective strategies and compliance training programs can help maintain regulatory compliance.

What should compliance training include?
Safety and compliance training go hand in hand. Workplace safety is incredibly important, and your compliance training should include information on all forms of workplace safety.
This includes everything from evacuation plans in the event of a fire or disaster, to how to spot the signs of workplace violence, to company policies for handling violent scenarios.
Make sure you know your company's protocols inside and out, so that you can keep yourself and your colleagues safe in any situation. Workplace safety is a top priority, so don't take it lightly! There are many forms of compliance training. Below are a few ones of importance.
Harassment is a form of discrimination that includes any unwelcome, unwanted, or offensive behavior that is based on an individual's protected characteristic, such as their race, color, religion, national origin, sex (including pregnancy), age, disability, genetic information, or sexual orientation.
Harassment can take many different forms and can occur in person or online.
Some examples of harassment include:
• making offensive or derogatory comments about someone's protected characteristic
• posting offensive or derogatory comments about someone online
• engaging in physical conduct that creates an intimidating, hostile, or offensive environment (such as blocking someone's path or touching them in a sexual way without their consent)
Employees who feel valued and respected are more likely to be engaged and productive. Diversity training can help your team members understand the benefits of a diverse workforce and how to create an inclusive environment.
When creating a diversity training program, focus on the following key points:
– The importance of listening to one another
– How different viewpoints can lead to better work
– The value of feeling safe and respected in the workplace
By teaching your team members about the importance of diversity, you can create a more positive and productive work environment for everyone.

What is the purpose of compliance training?
The purpose of compliance training is to ensure that employees understand all the relevant laws, regulations, and internal policies that govern their work.
It also helps them understand why it is important to follow these rules. compliance training can help reduce the risk of legal problems for your organization, and it can also improve employee morale and productivity.
When developing regulatory compliance training, there are several factors to consider. First, you need to decide what type of training will be most effective for your organization.
There are many different types of compliance training available where your team can be automatically enrolled, including online courses, classroom-based instruction, and on-the-job training. You also need to consider who will be responsible for delivering the training. These programs can be used for marketing purposes as well.
In some cases, it may be best to hire an outside consultant or trainer. However, in other cases, it may be more cost-effective to have someone within your organization deliver the compliance training.

What are a few examples of compliance training?
There are many different types of corporate compliance and compliance training that organizations can provide to their people. Some common compliance examples include:
Information security training:
This type of training focuses on computer security and helps those employed with your company understand how to protect sensitive data and protect the organization's values, job function, company culture, and business ethics.
Workplace safety training:
This type of training covers topics like fire, first aid, and emergency evacuation procedures. It helps their people stay safe in the workplace and know what to do in case of an accident or incident. This is very important to cover in compliance training.
It is the employee's role to ensure compliance with these learning objectives. For a certain industry, their team needs to be aware and on alert for bloodborne pathogens.
Data protection & privacy training:
This type of training covers topics like data handling, storage, and destruction procedures. It helps employees understand how to protect the personally identifiable information of customers and clients.
Diversity training:
This type of training covers topics like cultural awareness and sensitivity. It helps employees understand the importance of diversity in the workplace and how to create an inclusive environment for a business or organization. Diversity issues can be an issue in any industry which can put your company's reputation at risk. This may come with social learning tactics as well.
Workplace anti-harassment training:
This type of training covers topics like recognizing and reporting harassment. It helps employees understand what constitutes harassment and how to report it if they experience or witness it.
It is important that employee engagement is at a high with this compliance training lms. This course content involves many ethical issues and it is very important that your people follow the learning materials. It is safe to say, very business wants to avoid criminal prosecution in any form.
Healthcare training:
This type of training covers topics like infection control and safety procedures. It helps employees understand how to protect themselves and others from diseases and injuries.
Export and trade compliance training:
This type of training covers topics like export regulations and controlled items. It helps employees understand the requirements for exporting goods and products from the country.

What is the purpose of compliance?
The purpose of compliance is to ensure that your company and employees follow all laws, regulations, standards, and ethical practices that apply to your organization and industry.
Enforcing compliance helps your company prevent and detect violations of rules, which protects your organization from fines and lawsuits. Corporate compliance covers both internal policies and procedures, as well as federal and state laws.
Compliance is important because it helps businesses avoid penalties for breaking the law, maintain a good reputation, and foster a culture of ethical behavior. Establishing and enforcing compliance programs can be costly, but the costs of non-compliance can be even higher.
Fines for breaking the law can be significant, and companies may also suffer damages to their reputation if they are found to have violated ethical standards. A culture of compliance can help reduce the risk of people engaging in unethical or illegal behavior, which can save a company money and protect its good name.
Can't get your team together for training programs? There are online compliance training programs as well.

Why is employee compliance training important?
Compliance training is important for several reasons. First, it helps to ensure safety in the workplace. Second, it can increase employee productivity by teaching them how to work more efficiently and safely. Finally, compliance training can help protect your business reputation by ensuring that your employees are following all the regulations applicable to compliance.
Employee compliance training courses are important because it helps to ensure safety in the workplace. By teaching employees how to work safely, you can help reduce the number of accidents and injuries that occur in your workplace.
Additionally, compliance training can help increase employee productivity by teaching them how to work more efficiently. Finally, compliance training can help protect your business reputation by ensuring that your people are following all the required regulations. Be sure to log all compliance training records.
When selecting a compliance training program for your organization, it is important to choose one that is comprehensive and up-to-date. Additionally, the program should be tailored to the specific needs of your organization. By doing this, you can help ensure that your team is receiving the best possible compliance training and that they are able to comply with all the requirements.

Compliance: Conclusion-
The importance of compliance training and adhering to rules and regulations, cannot be overstated. Not only does it help to ensure safety in the workplace, but it can also increase employee productivity and protect your business reputation. It's vital your employees absorb lms because they will be able to maintain compliance. By investing in compliance training, you can help to create a safer and more efficient workplace for everyone involved.

About iSi
iSi Industrial Services and iSi Environmental have teamed to provide environmental remediation, industrial cleaning and EHS consulting services for over 30 years. Our staff of 20+ in house consultants, combined with teams of experienced remediation crews, gives us the capability to handle unique issues that arise at any facility. Headquartered in Wichita, Kansas, our team services offices in Kansas City, Tulsa, and Atlanta. Contact us now via phone (316-348-4107) or through the website and we will put your project on the schedule.
How Can We Help? Ask a Question or Request Info or Pricing
Do you need an idea of where you stand with EPA or OSHA regulations?  Do you need full-time or temporary personnel to manage the day-to-day compliance tasks?  Would your employees benefit from onsite environmental training?  Our team of environmental consultants, safety consultants and industrial hygienists would love to help. Call (316) 264-7050 today!
We send our articles by email whenever we add a new one.  Don't miss out!  Sign up for our blog today.