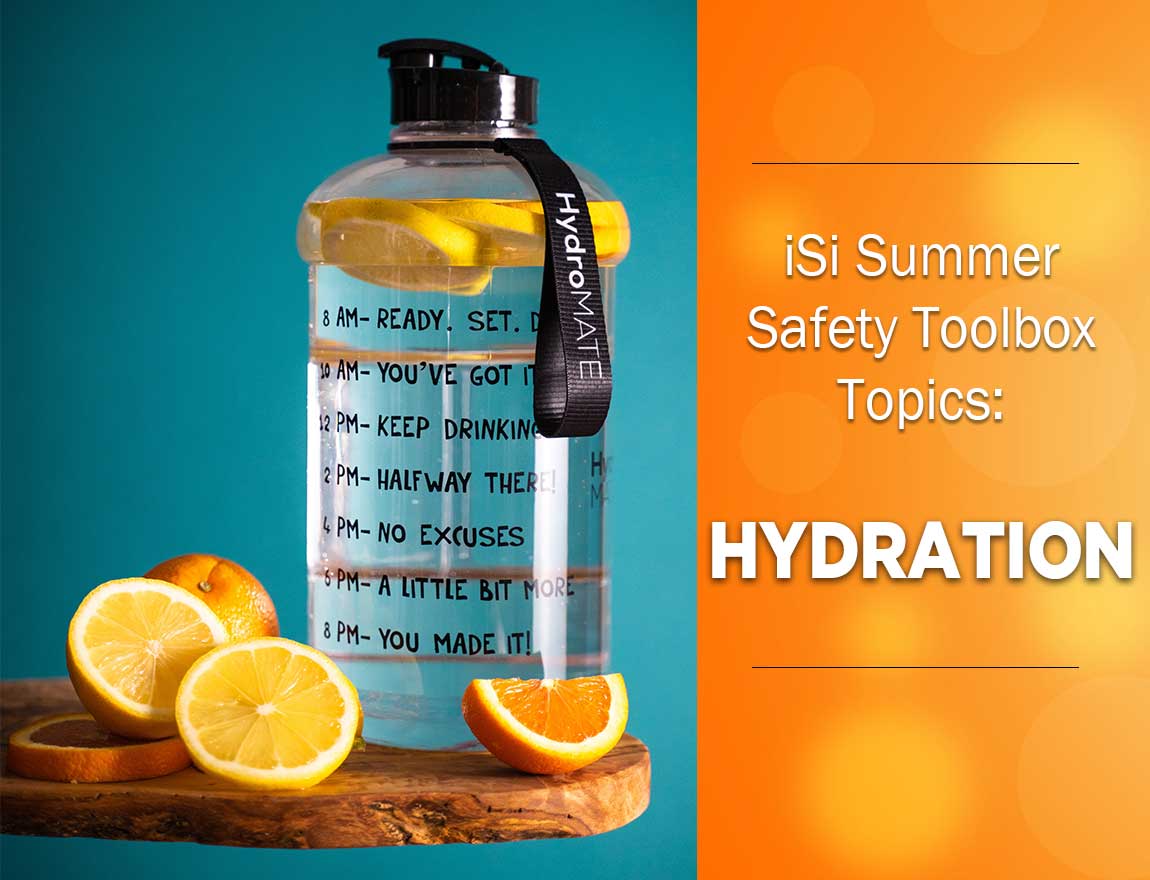 Dehydration can be a common cause of heat illness. Maintaining hydration is important, even if you don't feel thirsty. Drinking water or electrolyte drinks are highly preferred to sugary and heavily caffeinated drinks. OSHA recommends drinking small amounts of cool water often before getting thirsty; 4 cups every hour during heat index values between 103°F – 115°F. Another recommendation is not to exceed 12 quarts of water per day.
An important reminder is that every person and situation is different. Some people require more water than others. These intake amounts depend on several things including the type of work being done, how much you're sweating, and your personal risk factors. Don't chug a large amount of water in the morning and call it good for the day; the important thing is maintaining hydration. You don't flood your vegetable garden once at the beginning of the month and neglect it the rest of the month. If you do, you probably don't have much of a harvest. Drinking throughout the day helps to better regulate core temperature and reduces strain on your cardiovascular system, keeping consistent body temperature.
It's the supervisor's duty to have a plan in place during days of extreme heat. If possible, rescheduling a job to a cooler day or even a cooler part of the day could make a difference. Getting a job done on time is important, as is maintaining client satisfaction. However, no part of a job is worth risking the health and safety of your team and clients should understand that.
It's every person's duty to watch out for themselves and their teammates. Providing cold water for your team is beneficial during hot days, as is having a first aid kit. If you have a first aid kit, kudos! If you don't have a first aid kit, now is the time to get one. A few beneficial items to add to your first aid kit would be cold packs, cooling towels, electrolyte/salt tablets, or electrolyte powder drink mix. There are also specific first aid kits that can be purchased that include heat-stress care items.
Some symptoms of dehydration include:
Extreme thirst
Less frequent urination or dark colored urine
Decreased sweating
Muscle cramps
Nausea, dizziness or confusion
Fatigue
If you're a supervisor who would like some ideas on a heat safety plan or have questions on where to find quality first aid kits, contact us!
Drew Lyon

Project Manager | Meteorologist

Drew Lyon's experience and training encompasses environmental reporting, day-to-day EHS compliance assistance at manufacturing facilities, wastewater compliance, hazardous waste management, environmental field sampling and safety. She is also a meteorologist, providing weather-related guidance to clients and our team.
We send our articles by email whenever we add a new one.  Don't miss out!  Sign up for our blog today.