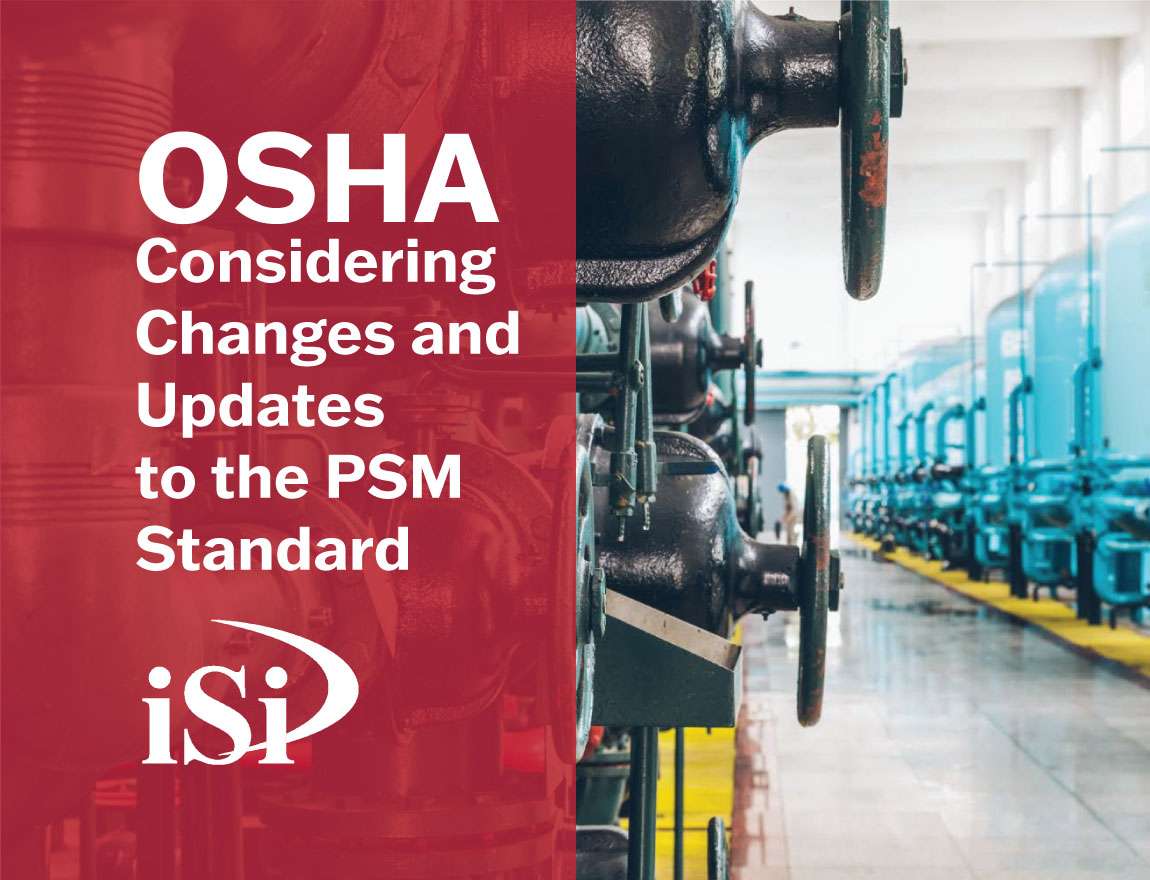 OSHA Considering Changes and Updates to the PSM Standard
OSHA has been accepting comments on several proposed changes to its Process Safety Management, or PSM standard.
PSM is an OSHA regulation that is concerned with processes at your facility that use highly hazardous chemicals.  PSM provides a compliance framework to evaluate each process with the end goal of no spills, fires, explosions, reactions, releases or other incidents arise from their use.  The official standard can be found at 29 CFR 1910.119.
PSM hasn't been updated since its creation in 1992.  OSHA has been reevaluating PSM, and EPA has been similarly been reevaluating their Risk Management Plan, or RMP standard since the 2013 West, Texas fertilizer storage facility explosion.  Just like the difference between OSHA and EPA, PSM is meant to protect workers while RMP is meant to protect the environment.
Potential changes to PSM could include:
Clarifying the exemption for atmospheric storage tanks;
Strengthening employee participation and stop work authority;
Requiring the development of written procedures for all elements specified in the standard, identification of records required by the standard, and a records retention policy (previously referred to as "Written PSM Management Systems");
Including oil-well and gas-well drilling and servicing as part of the standard and resuming enforcement for oil and gas production facilities;
Expanding coverage and requirements for reactive chemical hazards;
Updating and expanding the list of highly hazardous chemicals in Appendix A;
Requiring continuous updating of collected information (paragraph (d));
Requiring formal resolution of Process Hazard Analysis team recommendations that are not utilized;
Better defining what critical equipment means, what equipment deficiencies are, and expanding paragraph (j) to cover the mechanical integrity of critical equipment;
Clarifying the scope of the retail facilities exemption;
Defining the limits of a PSM-covered process;
Better defining recognized and generally accepted as good engineering practices (RAGAGEP) and requiring evaluations of any updates to them;
Requiring safer technology and alternatives analysis;
Requiring consideration of natural disasters and extreme temperatures;
Amending paragraph (k) of the Explosives and Blasting Agents Standard to cover dismantling and disposal of explosives and pyrotechnics;
Clarifying that paragraph (l) covers organizational changes;
Amending paragraph (m) to require root cause analysis;
Requiring coordination of emergency planning with local emergency-response authorities;
Requiring third-party compliance audits; and,
Including requirements for employers to develop a system for periodic review of and necessary revisions to their PSM management systems (previously referred to as "Evaluation and Corrective Action").
This action is currently in the comments stage, and stakeholder meetings were held in October 2022 with comments accepted through mid-November 2022.  We will keep you updated when anything final is published.
Do you need help with PSM?  Does this apply to you?  iSi can help!  Contact us today for more information.
We send our articles by email whenever we add a new one.  Don't miss out!  Sign up for our blog today.