At iSi we get the opportunity to come across all types of industrial hygiene and indoor air quality projects.  One of our most memorable ones involved something that isn't typically thought of as a indoor air quality problem:  snakes!
In Chapman, Kansas, employees at a 1930s office building were complaining about an unpleasant odor in the building. The employees suspected that the odor was coming from snakes that were nesting in and around the building.
In the spring and fall over the past several years, employees frequently caught snakes in the building. The snakes often poked their heads out from the ductwork and slid over toes at work stations. The snakes were confirmed to be black racers, which produce a distinctive odor when they are disturbed or active. Some settling asphalt near the building provided a place for the snakes to den, and some snakes found paths which allowed them to enter the building. With winter approaching, the snakes had no reason to leave once inside the building.
iSi's Industrial Hygienist, Constance Timmons, met with a local wildlife biologist from Kansas State University to do a walkthrough evaluation of the building to gather background information. With the indoor air quality information that they gathered, Constance and the wildlife biologist determined that the odor was in fact due to snakes.
Although the odor was not a health hazard, iSi recommended ways to prevent the snakes from re-entering the building in the spring such as using snake traps; a drift fence between the building and the field, consisting of silt about an inch deep; and using pea gravel as a filler around the building because it does not support tunnels.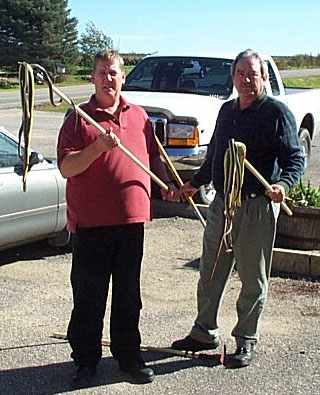 For ongoing snake control, iSi recommended placing glue traps along the inside walls of the building, making sure that the traps are not adjacent to standing pipes. A snake is able to wrap around the pipe and leverage itself off the trap. Also, turning up the heat in the building may increase the capture of snakes on the glue traps because they are not able to hibernate when they are so warm. Building personnel were advised that, if they chose to relocate the snakes, to release them at least two miles from the building during any season but winter. Racers have a home range of 25-50 acres, and would find their way back if not released far enough away.
In the 2 days after our visit, the employees were able to catch over 23 snakes!
If you've got an indoor air quality issue, we feel like we've seen it all! Let us diagnose the problem and find the solutions.
What indoor air quality or workplace exposure issue can we help you with? Contact us today!