Legionnaires, Heavy Metals Among the Hazards That Could Affect Your Building's Water System Safety
As we all prepare to return to work, we may find additional hazards lurking in our buildings if they have been closed up or have had limited occupancy due to stay at home orders. Building water systems that have been sitting stagnant can have depleted disinfectant levels. This leads to increased bacteria and biofilm levels inside the system. It can also show increased levels of corrosion products such as iron, lead and copper depending on what your pipes are made from.
Water System Safety:  Environmental and Safety Hazards of Stagnant Water
As water sits unused in pipes, the disinfectant normally found in water (typically chlorine, but check with your water service to see what they are using) depletes to a point where a biofilm forms inside the pipe. This biofilm then grows and when the system is turned on water droplets can become airborne and inhaled causing many illnesses that can affect the lungs such as Legionnaires' disease. Water that has sat in pipes also increases the amount of corrosion products from the piping itself and can lead to increased levels of metals in the water, depending on what your plumbing is made from. These increased levels can be ingested from various sources within a company such as drinking fountains, ice machines, plumbed coffee systems, water softeners, improperly maintained water heaters, on demand water heaters and dishwashers.
Water System Safety:  Have a Plan to Deal With the Stagnant Water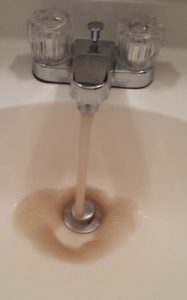 Before buildings are reopened, a plan should be established to flush out the contaminates in your building's entire water system. This flush should go all the way back to the main line from the municipality. You may need the assistance of a plumber or water engineer to properly determine the size and length of the pipes so the proper volume of the water system can be calculated.
Once known, the volume will then determine the length of time the system will need to flow. In some cases, this could require over an hour of water flow. Be sure to pay special attention to any dead spaces in both the hot and cold-water systems. Remember, this water can be contaminated with bacteria that may cause respiratory issues and the hot water may be hot enough to cause burns so be sure to include proper safety equipment in the plan if doing large scale flushing.
Water System Safety:  Clearance Testing
Once the system has been flushed, testing can be done on the water to determine if it meets the standards established by the Environmental Protection Agency (EPA) for Primary Drinking Water. Those standards can be found at https://www.epa.gov/ground-water-and-drinking-water/national-primary-drinking-water-regulations. If you are interested in the USEPA's Lead and Copper Rule a Quick Reference Guide can be found at https://nepis.epa.gov/Exe/ZyPDF.cgi?Dockey=60001N8P.txt.
If you need assistance in determining the safety of your buildings water system, please contact iSi.


Keith Reissig

Industrial Hygienist | Project Manager

Keith brings over 20 years of industrial hygiene and safety experience to iSi and its clients. An industrial hygienist, Keith jokes that he "sucks air for a living."  He specializes in workplace exposure testing and sampling strategies, safety compliance, ergonomics and training in a variety of topics in both the industrial hygiene and safety field.
We send our articles by email whenever we add a new one.  Don't miss out!  Sign up for our blog today.