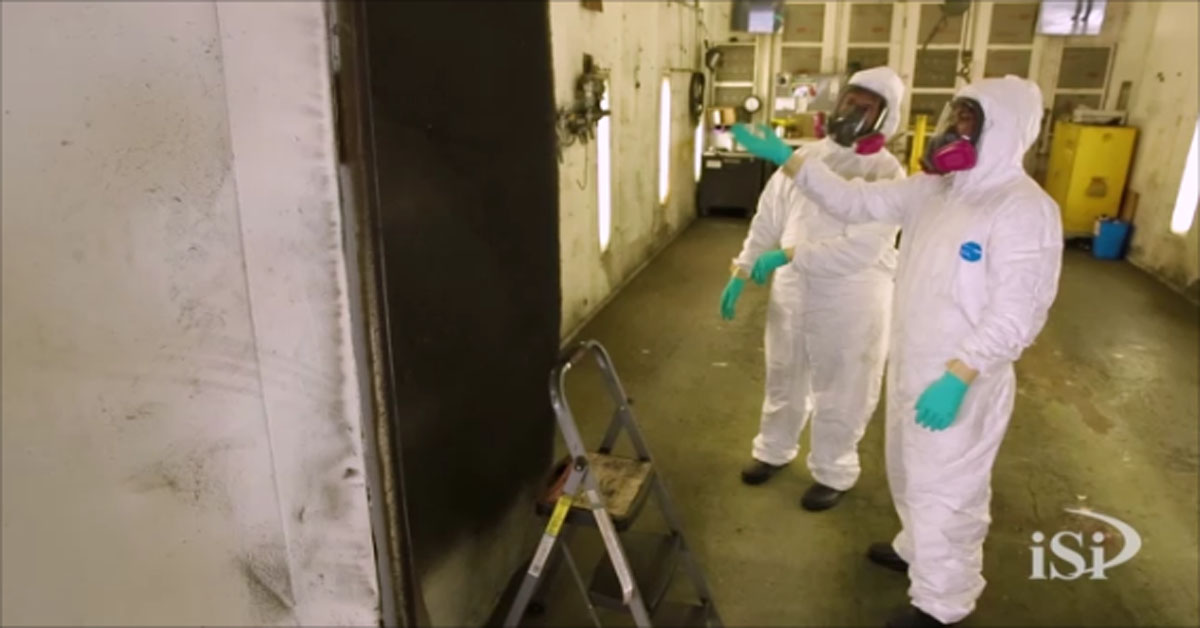 In this week's blog, we'll explore the case for paint booth cleaning.  Not only is it the law, but it can save your company a lot of money.
Cleaning is the Law
There are a number of regulations and standards which include paint booth cleaning and maintenance as part of their directives. Most of these are to protect the workers inside the booth, workers outside of the booth and the environment. Some of these include:
OSHA 1910.107 and 1910.94
EPA NESHAP, 40 CFR Part 63 Subparts HHHHHH and XXXXXX
NFPA 33
Cleaning SAVES Money
iSi has been providing paint booth cleaning personnel for a number of years to industrial facilities. One of the biggest comments we get from our clients in favor of routine cleaning is how much a clean booth will affect the quality of the painted part. A clean booth significantly reduces the amount of dirt and impurities in the air, leading to a dramatic reduction in the number of re-paints. This in turn saves painter time and resources, increases productivity, and improves the quality of the finished product.
Dirty booths can make a big difference on booth effectiveness. Built-up coatings on floors and walls become harder and harder to remove as time goes on. Filters which are dirty, not changed on a regular basis, paint-coated, missing, or not sized for the type of booth they're in all contribute to poor booth performance. Coated sprinkler heads and fire devices are a fire safety hazard. Not addressed on a routine basis, these issues can end up costing your company in additional labor costs, equipment replacement costs and product painting redos.
What Should be Cleaned?
Booths walls and floors, paint grates, sprinkler heads, filters, gauges, ventilation ductwork and fan blades should all get routine attention. For safety reasons, gauges should shut down if there's not enough flow through the filters. Paint scraps should never be left in piles on the floor, and drums of rags and wastes should be removed each day.  OSHA says that in some cases, daily cleaning may be needed.
Who Should Clean the Booth?
What are the hazards involved in the paint that you're using? If the paint is hazardous, this puts you in a totally different level of effort and compliance responsibility than a traditional janitorial or maintenance company may be able to provide. For example, iSi conducts cleaning of booths contaminated by hexavalent chromium paints. This requires our workers to wear special PPE and respirators and follow strict protocols. As a company, iSi is required to have a respirator program, a hexavalent chromium program, and routine medical monitoring.  Other hazardous paints may have similar requirements, so if you're using your own personnel to clean the booths, make sure you're compliant with all OSHA and medical requirements for this work.  It may look like it's just a cleaning job, but the materials your workers will be exposed to make it much more complicated.
Some companies will have their painters do the cleaning either before or after a shift. This takes extra time away from their regular duties, and sometimes lack of time and shifting priorities can create shortcuts. Thus, companies end up paying for maintenance duties at skilled painter labor rates.  It's fine for you to use your own personnel, but you may want to consider what's best use of their time and what you're spending in the long run.
If you have questions or comments about paint booth maintenance, contact us today, and we'd love to help you!
How can iSi help your company with paint booth cleaning and compliance? Check us out!